The Advancing ALTELLA: Alternate Assessment Redesign project is a collaboration among WIDA staff, the WIDA Consortium, including the Minnesota Department of Education as the lead state, the Texas Education Agency, and national experts.
Project activities include 
Redesigning the WIDA annual alternate English language proficiency assessment, Alternate ACCESS for ELLs
Building a screener that appropriately identifies students to participate in Alternate ACCESS
Developing professional learning materials that support the implementation and administration of the new and updated assessments
Leading research that informs assessment development and makes sure test items are meaningful, accessible, and relevant to the population of students taking the assessment
Disseminating project findings to state education agencies, national experts and policymakers, educators, families, and other interested stakeholders
Advancing ALTELLA builds on the initial ALTELLA project and the past decade of research on assessing English learners and students with the most significant cognitive disabilities.
Advancing ALTELLA allows WIDA and its partners to provide English learners with the most significant cognitive disabilities access to high quality content. This is especially important given that research shows (pdf) that almost one-quarter of English learner students with the most significant cognitive disabilities do not receive English-language services – even though United States public schools are required to offer these services to all students learning English.
Educator Involvement
State Education Agency (SEA) experts and English learner educators play an important role in helping the Advancing ALTELLA team develop English learner tools and resources. SEAs and educators have ample opportunity to provide feedback and expertise during the assessment development process by participating in professional growth activities, such as bias, sensitivity, and content reviews of new assessment tools, pilot tests, field tests, classroom observations, and cognitive labs.
Timeline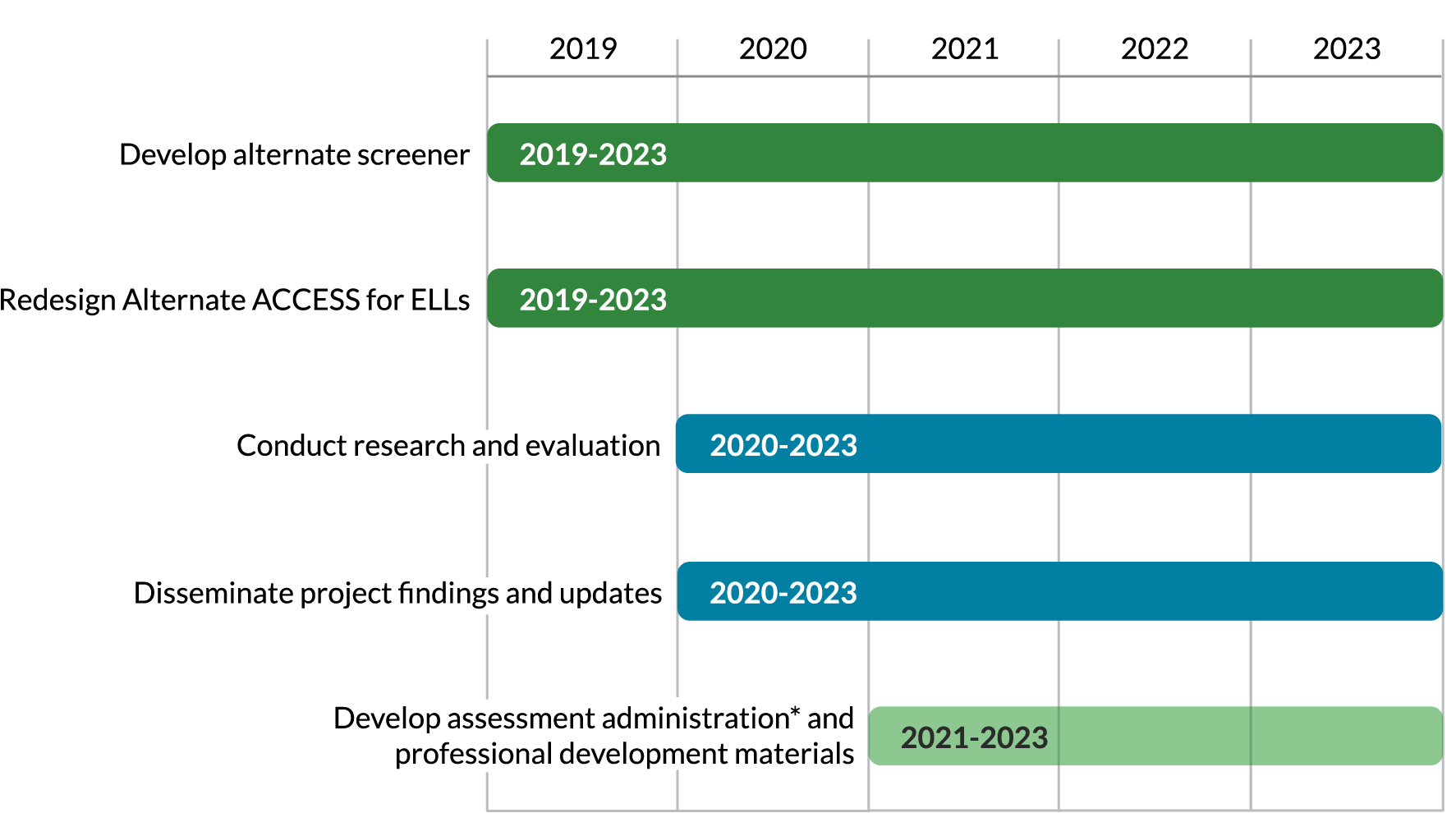 The timeline chart shows:
From 2019 to 2023, develop alternate screener, and redesign Alternate ACCESS for ELLs. From 2020 to 2023, conduct research and evaluation, and disseminate project findings and updates. From 2021 to 2023, develop assessment administration* and professional development materials.
*Operational implementation of assessment activities will be managed by WIDA.